Date
Duration
Price
Book this tour and earn denuros
or redeem accumulated denuros
and SAVE 5% up to a maximum
of $100pp
2021 dates coming soon!
Two relaxing resorts melt away stress! Quebec's beautiful Eastern Townships are a tapestry of vineyards, pastoral countryside, mountains, and crystal clear lakes. Stay three nights in Orford, where you'll be welcomed by a cocktail party and the evening's entertainment is a memorable retreat. The Hotel Cheribourg and Manoir des Sables boast views that are complemented by the same 4-star amenities including tennis court, pool, and comfortable rooms.
The Abbey of Saint-Benoît-du-Lac is home to 30 Benedictine monks who are famous for their handcrafted cheeses and Apple Cider. Then experience pure body products using only olive oil and essential oils. Select your favourites at the Savon des Cantons boutique. Stroll the fragrant fields of Bleu Lavande, the region's most important lavender producer. Tour a winery and soak in Magog's scenery for the remainder of your stay.
Stop in Old Montreal for lunch en route to the remarkable Le Château Montebello, the world's largest log cabin! Founded as a private club in 1930, it offers tranquility and rustic elegance. Continue home, stopping in pretty Gananoque for lunch with a view of the St. Lawrence River.
Located in the heart of the Eastern Townships on a 300-acre site, Manoir des Sables – a 4-star resort – offers visitors a peaceful atmosphere and enchanting natural sites. May your experience begin!  Enjoy a creative culinary experience rich in flavors, prepared by our chef. Relaxation – The Spa Villegia is perfect for letting go and restoring energy.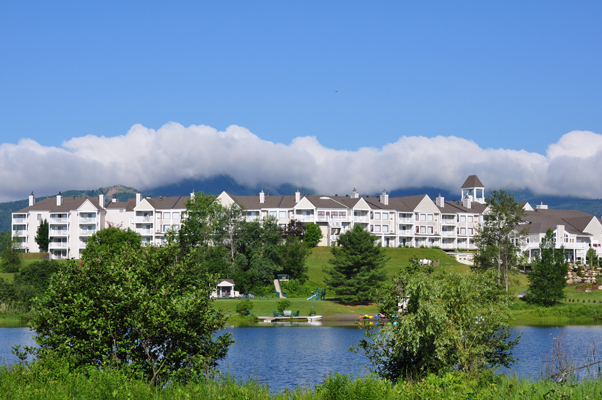 Since 1912, the Benedictine monks live according to their religious principles at Saint-Benoît-du-Lac.The Eucharist is sung (Gregorian singing) every day at 11:00 a.m. as are the Vespers every day at 5:00 p.m..
The monks make cheese, tend apple orchards and make cider, all of which can be purchased in their store.
Savon des Cantons:It's vegetal by nature! soaps, skin and body care products with precious oils (avocado, onager, jojoba, argan) and pure essential oils (fine lavander,mint, bergamot, rosemary.)In 2002, Laurent Grimon and Florence Heiser got the idea of starting up a soap-making cottage industry on Chemin des Pères in Magog, Florence, who had a strong background in phyto-esthecology, designed a line of olive-oil soaps and cosmetics classified as 100% vegetal.  The products were an immediate sensation and, in 2006, the facility was expanded to its current location. Today, the factory employs 10 workers, markets 7 tons of soaps and cosmetics annually, and has had more than 50 000 visitors.
With Lake Memphremagog as a backdrop, a 44.5-km view of mountains extending to the Vermont border, and a lively downtown core, the City of Magog benefits from an exceptional location that early on in its history established its reputation as a popular tourist destination. Founder Ralph Merry arrived in the region around 1797 and left his mark by harnessing hydroelectric power for the textile industries, for which the city was to be long known. His home still stands in the heart of the city, at the corner of Merry and Principale streets.
The ingenuity of Joseph-Armand Bombardier and his successors paved the way for spectacular developments in the field of transportation and has been immortalized over time. Ingenuity can be seen not only in the technological solutions, but also in the ability to manage, anticipate, and create a vision for business development. The permanent exhibition presents the ingenuity of Joseph-Armand Bombardier.
In the heart of the Eastern Townships, lies the most important producer of the lavender in the country. Bleu Lavande welcomes you to discover the beauty and the many benefits of this virtuous plant. Come take a leisurely stroll in the fields. In the Bistro and Gourmet Boutique you can taste lavender beer and a variety of lavender inspired products. 
Old Montreal is the oldest area in the city of Montreal, with a few remains dating back to New France. Most of Old Montreal was declared an historic district in 1964 by the Ministère des Affaires culturelles du Québec. When it was first founded, Montréal was defended by fortified structures. Today you will find trendy restaurants, most with outdoor eating areas, shopping and a feel of old France.
Escape from the ordinary and experience a delightful retreat at Fairmont Le Château Montebello, the world's largest log cabin! Nestled in the heart of the scenic Montebello village, surrounded by nature, the hotel is famed for its rustic yet luxurious accommodations, excellent service and refined gastronomy. Historically founded as a private club in 1930, Fairmont Le Château Montebello has had the privilege of hosting many political figures, royalty and other celebrities. The resort is now an ideal destination for leisure travelers. Entertainment, local cuisine, relaxation and a warm welcome is what you will come to expect as we want your experience to be truly unforgettable.
Motorcoach transportation, 4 nights accommodation, 4 breakfasts, 3 lunches, 4 dinners, all highlights listed, Tour Director, Connections Program and all taxes.
Prices are in Canadian dollars, are per person and include HST and TVQ.
Included Highlights
• Orford
• Saint-Benoît-du-Lac Abbey
• Savon des Cantons
• Magog
• Wine tasting and tour
• Lavender farm tour
• Old Montreal
• Lunch in the Thousand Islands region
• Orford, QC: Cheribourg Hotel or Manior des Sables (3 nights)
• Montebello, QC: Fairmont le Château Montebello (1 night)
Orford, QC
Depart in the morning for Orford, QC and arrive at Cheribourg Hotel by late afternoon. Explore the resort's amenities or enjoy the amazing views before a welcome cocktail party, followed by dinner and entertainment.
Stay: Cheribourg Hotel or Manior des Sables, Orford
Nights: 3
Meals: D
Savon des Cantons, Saint-Benoît-du-Lac Abbey, Magog, Lavender Farm
Travel to the local production facilities of Savon des Cantons to learn how pure soap is made and enjoy time to shop in their boutique. Visit nearby Saint-Benoît-du-Lac Abbey, an active monastery which is almost 100 years old. Enjoy shopping for homemade cheese, jams and candy in the monastery store. After some time in the village of Magog, journey to the nearby town of Fitch Bay to visit Bleu Lavande, the only producer of certied True Lavender in Canada. While there, enjoy a guided tour and lunch and learn more about this unique farm. Return back to the resort for cocktails and dinner.
Meals: B, L, D
Miellerie Lune de Miel, Le Cep d'Argent Winery
Start your day with a visit to Miellerie Lune de Miel for a guided tour that focuses on the life of bees and their honey production. Watch bees in action in a completely protected environment. This afternoon enjoy a tour, tasting, and lunch at Le Cep d'Argent, a winery whose name is inspired by its setting on the shimmering reections of Lake Magog below. Arrive back at the resort in time for evening cocktails followed by dinner and live entertainment.
Meals: B, L, D
Montreal, Château Montebello
Depart the resort this morning and arrive in Montreal in time for lunch on your own. Arrive at the remarkable Château Montebello, the world's largest log cabin! Enjoy the rustic elegance and tranquil setting of the resort before dinner this evening.
Stay: Fairmont le Château Montebello, Montebello
Nights: 1
Meals: B, D
Travel Home
After breakfast, board the coach and enjoy a lunch stop in Gananoque before continuing on your journey home.
Meals: B, L
Travellers will occasionally have to walk on uneven surfaces or get on and off boats or trains. Tours on the itinerary may include periods of up to an hour of walking at a gentle pace. There may also be a few one-night stays, but often the majority of your trip is spent in just a handful of hotels. Most of our North American sightseeing tours fall into this category.